Highlights
24-Hour Hop-On Hop-Off Access
Includes free entrance to the National Museum and Mim Museum
Tour starts at 9:30 AM, last departure is at 5:00 PM & last stop is at 6:45 PM
You can Hop-On at any of the stops
No coupon required for kids below 5 years old
Kids between 5 and 15 years old pay $10 at the entrance
Check out the tour schedule
here
Exchange your coupons with the 24-Hour ticket at the bus' entrance
Present your coupon directly from the Gosawa Mobile App. Download Now for
iOS
or
Android
Exchange your unused and unexpired coupons;
coupons may be exchanged for other offers or credits by simply emailing your request to support@gosawa.com at least 5 days prior to the expiry date.
Earn 50 points by purchasing this deal
Details
Discover Beirut's hidden gems with a bus sightseeing tour for the first time in Lebanon! Benefit from the 24-Hour Hop-On Hop-Off Access from City Sightseeing Lebanon, only $25 instead of $33.
Hop-On and Hop-Off!
Check out the tour schedule here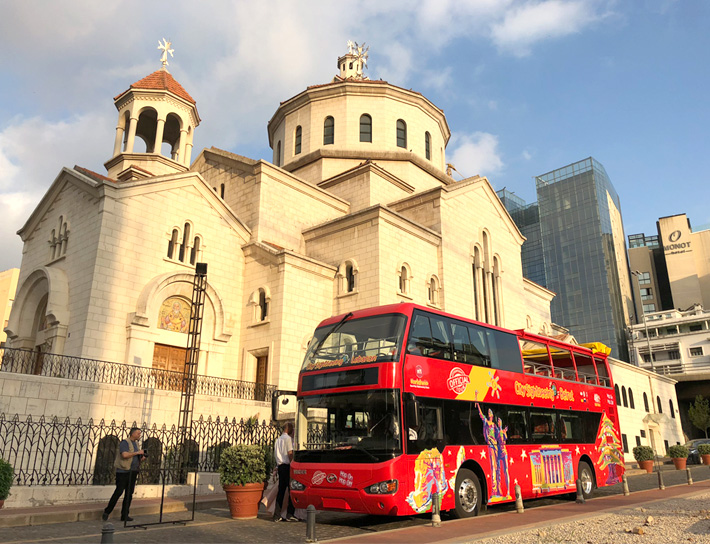 Need to Know (Terms)
Coupons valid until November 02, 2019. May redeem multiple coupons per person. Tour starts at 9:30 AM, last departure is at 5:00 PM & last stop is at 6:45 PM. No coupon required for kids below 5 years old. Kids between 5 and 15 years old pay $10 at the entrance. No carry over. VAT included in price. Standard terms & conditions apply.
About City Sightseeing Lebanon