Highlights
Option 1: $12.66 instead of $23 for the Small Splashed Beige Wooden Contemporary Table (Earn 25 points)
Option 2: $12.66 instead of $23 for the Small Spiral White Wooden Contemporary Table (Earn 25 points)
Option 3: $16.66 instead of $30.5 for the Medium Spiral White Wooden Contemporary Table (Earn 33 points)
Option 4: $19.66 instead of $36 for the Large Spiral White Wooden Contemporary Table (Earn 39 points)
Option 5: $19.66 instead of $36 for the Large Dotted White Wooden Contemporary Table (Earn 39 points)
Option 6: $19.66 instead of $36 for the Large Rhombus Beige Wooden Contemporary Table (Earn 39 points)
Polyresin and solid wood material
Modern design
Perfect for your living room, bedroom or office
Can be used a corner or center table
Small Dimensions: 28 x 30 cm
Medium Dimensions: 39 x 40 cm
Large Dimensions: 39 x 45 cm
Limited quantity available
Items are reserved for paid orders only
Available for office pick up
Delivery available for an extra $3 charge (allow 2-3 days for delivery) - Call 01 985 775 to arrange delivery

Details
A small stylish table always comes in handy, whether to place our coffee cup or as a house decoration! Get these Wooden Contemporary Tables, starting from $12.66 instead of $23.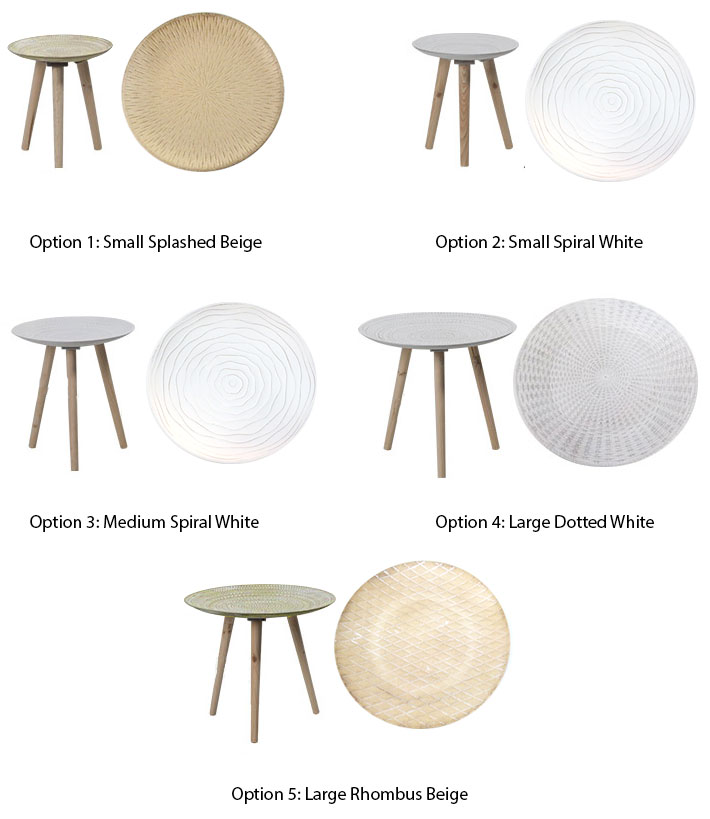 Need to Know (Terms)
May redeem multiple coupons per person. Coupons must be redeemed within one month of purchase. The delivery option is available for an extra $3 charge (allow 2-3 days for delivery). Non-Refundable / No carryover. VAT included in price. Standard terms & conditions apply. Should a product purchased through our website arrive defected, you have 3 business days to return the item back to our office for an exchange. The item must be unused, in its original box, and with all paperwork, parts, and accessories.
Gosawa
1 location
Entresol / Mezzanine Level, Al Azarieh Bldg Block A2-2, Above DHL
Downtown, Beirut
Lebanon