Highlights
Ultimate Fun Birthday Package for Up to 20 Kids
Access to playground, trampoline and play card recharged with 1-hour of free arcade games
Happy Meal: nuggets / burger / margarita pizza with fries & soft drink / juice / water
Invitation cards, dedicated party host and white party supplies
Lasts for 1 hour and 30 minutes
Wearing socks is required at all times
Cake not included, you are welcome to bring your own cake
$25 extra charge for extra children
Valid for ages 7 to 14 years old
Open Monday to Thursday from 11:00 AM till 8:00 PM, Friday from 11:00 AM till 10:00 PM, Saturday & Sunday from 10:00 AM till 10:00 PM
Reservation required on 05 814 827
Coupons must be printed
Exchange your unused and unexpired coupons; coupons may be exchanged for other offers or credits by simply emailing your request to support@gosawa.com at least 5 days prior to the expiry date.
Earn 750 points by purchasing this deal

Details
Celebrate your child's special day at an amazing spot where fun never ends! Benefit from this Ultimate Fun Birthday Package for Up to 20 Kids at Magic Isles, The Spot Mall, only $375 instead of $500.
Exciting games and bites for the perfect birthday!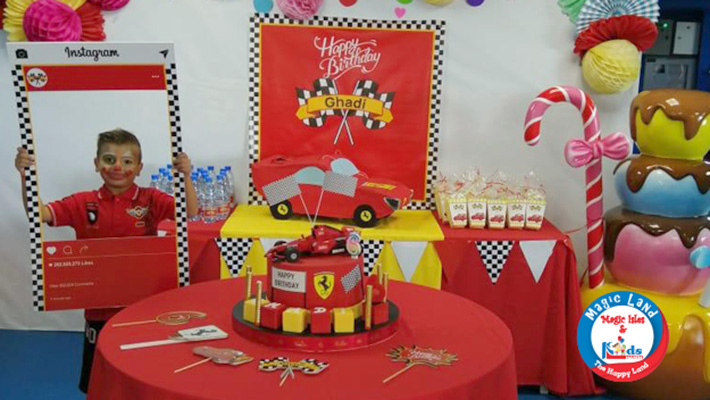 Need to Know (Terms)
Coupons valid until December 20, 2019. May redeem multiple coupon per person. Last for 90 minutes. Valid for up to 20 kids. $25 extra charge for extra children. Valid for ages 7 to 14 years old. Wearing socks is required at all times. Open Monday to Thursday from 11:00 AM till 8:00 PM, Friday from 11:00 AM till 10:00 PM, Saturday & Sunday from 10:00 AM till 10:00 PM. Reservation required on 05 814 827, quote Gosawa coupon. Coupons must be printed. No carry over. VAT included in price. Standard terms & conditions apply.
About Magic Land
Magic Land is a fun and creative space for kids and adults conveniently located at The Spot Mall, Choueifat. It features two play areas; Magic Isles and Kids Haven.
Magic Isles is a great space for children and adults to enjoy their free time with multiple games like; Holocube VR, Omni VR, Indoor Roller Coaster, Bumper Cars, Redemption Games, Arcade Games, Video Games, Wall Climbing and More.
Kids Haven offers exciting games for kids ages 1 year and half to 6 years old! It is a great space for children and toddlers to enjoy playtime with multiple games like; soft playground with slides and ballpit, kiddie rides, sand art, toddler area, redemption games and more.
Check out Magic Land on Facebook
Magic Land
1 location
2nd Floor, The Spot Mall
Choueifat
Lebanon