Highlights
food and drinks from the
menu
for only $7
Italian Seafood Cuisine
Self-service
Indulge in your favorite Italian delights with a seafood twist cooked with brand new recipes
Fresh seafood sandwiches (octopus, salmon, fresh tuna, calamari and more)
Imported Italian pastries and pizza dough
Salads, sandwiches, pasta, pizza, soup and drinks
All meals are cooked using top-notch fresh ingredients
A taste like no other!
Valid at Sarba & Antelias branches
Open daily from 12 PM till 12 AM
Present your coupon directly from the Gosawa Mobile App. Download Now for
iOS
or
Android
Exchange your unused and unexpired coupons;
coupons may be exchanged for other offers or credits by simply emailing your request to support@gosawa.com at least 5 days prior to the expiry date.
Earn 14 points by purchasing this deal
Details
Are you a fan of Italian Cuisine? How about some fresh seafood added to that! Enjoy a mix of Italian and Seafood delights with $10 worth of Food & Beverages from the Menu at Tartina Di Mare for only $7.
Enjoy savory dishes like never before!
Check out Tartina Di Mare's Menu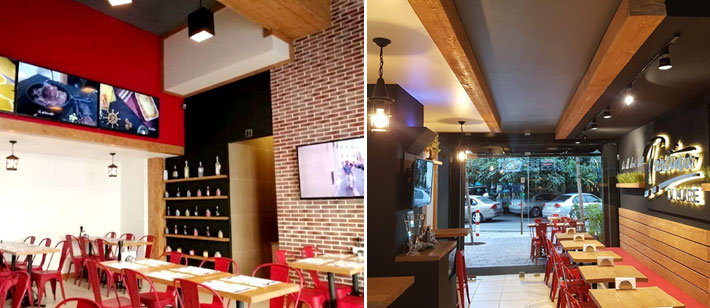 Need to Know (Terms)
Coupons valid until December 09, 2019. May redeem multiple coupons, one coupon per person per visit. Valid at Sarba & Antelias branches. Open daily from 12 PM till 12 AM. No carry over. VAT included in price. Standard terms & conditions apply.
About Tartina Di Mare
Tartina Di Mare is a fast food restaurant serving Italian Seafood Cuisine. The restaurant presents a new concept in Lebanon where you can enjoy all the Italian dishes you like mixed with fresh seafood. You can dine-in following the self-service concept or grab a quick sandwich whilst on the go! Their menu is diversified and unique, you can first start with the famous Zuppa Di Tartina soup which includes fresh seafood from octopus to salmon, calamari, squid and more, next stop is their various refreshing salads, for your main course; you can indulge in the taste of imported pizza right from Italy, delightful pasta or fresh seafood sandwiches (octopus, salmon, fresh tuna, calamari and more), and of course there's no better way to wrap up this feast other than a toothsome dessert!
Check out Tartina Di Mare on Facebook
Tartina Di Mare
2 locations
Al Chir Street
Sarba
Lebanon

Next to Odeon Theater
Antelias
Lebanon