Highlights
Pool Entrance
60-Minute ATV Ride (down the river)
Lunch: 1 platter from the menu and 1 soft drink
Valid for ages 16 years and above
Restaurant open daily from 9:00 AM till 12:00 AM
Pool open daily from 9:00 AM till 6:30 PM
Guide available
Reservation required on 76 917 171
Present your coupon directly from the Gosawa Mobile App. Download Now for
iOS
or
Android
Exchange your unused and unexpired coupons before August 31st;
coupons may be exchanged for other offers or credits by simply emailing your request to support@gosawa.com
Earn 50 points by purchasing this deal
Details
Spend a full day in the majestic area of Chouf enjoying delicious delights, thrilling activities and a dip in the pool! Benefit from 50% off Pool Entrance, ATV Ride & Lunch from Venus Resto Pool, only $25 instead of $50.
Head to Lebanon's mountain area on a sunny day!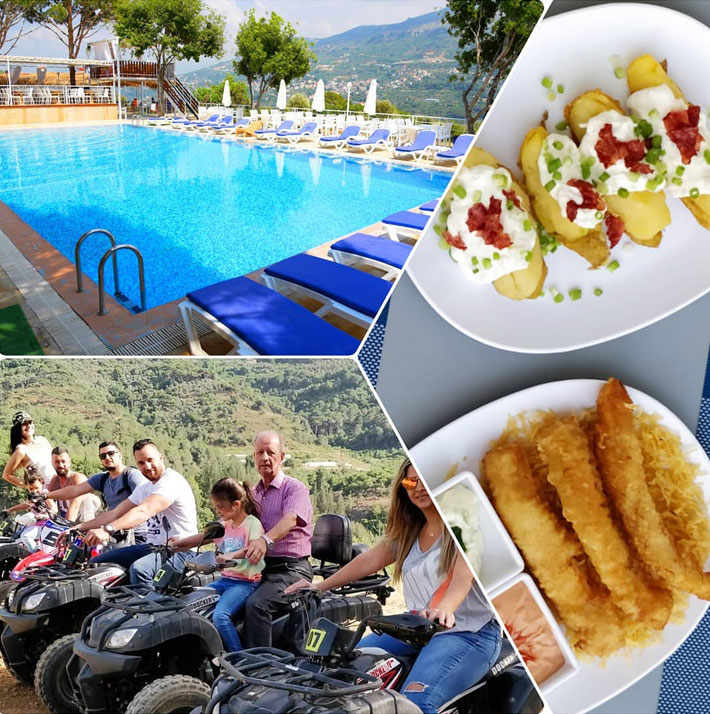 Need to Know (Terms)
Coupons valid until September 15, 2019. May redeem multiple coupons per person. Valid for ages 16 years and above. Restaurant open daily from 9:00 AM till 12:00 AM. Pool open daily from 9:00 AM till 6:30 PM. Reservation required on 76 917 171, quote Gosawa coupon. No carry over. VAT included in price. Standard terms & conditions apply.
About Venus Resto Pool
Venus Resto Pool gives you a combination of unique food dishes, a refreshing and exquisite pool and a modern yet natural decoration. Venus Resto Pool is the place to be all year long for you to unwind and escape the city.
Check out Venus Resto Pool on Facebook
Venus Resto Pool
1 location